About Me
I received the Diplom-Informatikerin (Bioinformatikin) from the Eberhard-Karls University of Tübingen (Germany) and the Dr. rer. nat. (Ph.D.) degree from the Technical University of Munich (Germany).
From spring 2013 to May 2018 I was employed at the University of Zurich (Switzerland) as "Head of Mobile and Trusted Communications" at the Communication Systems Group (CSG) of Prof. Dr. B. Stiller. My focus was on topics in the area of Internet of Things (IoT) including issues such as constrained networks, security and privacy issues, as well as mobile communication (e.g., IEEE 802.15.4, LoRaWAN) and network management (see SecureWSN).
After several years of visiting status at the group of Prof. Dr. Gabi Dreo-Rodosek at the Universität der Bundeswehr München (University of Federal Armed Forces Munich) in Germany I joint the affiliated Research Institute CODE as researcher and lab manager. My research area got extended to the application area of military communication, smart environments, and critical infrastructures.
My work is documented in more than 30 publications, including several book chapters and journal articles, as well as the RFC 8272 on "TinyIPFIX for Smart Meters in Constrained Networks", and the ITU-T recommendation Y.3013 on "Socio-economic Assessment of Future Networks by Tussle Analysis". I contributed to several EU projects (e.g., CONCORDIA, symbIoTe, SmartenIT, FLAMINGO, AutHoNe) and different standardization organizations (IETF, ITU, ASUT) until now and continue with these activities and recruit research funds continuously. I am active in ACM and IEEE as TCP member, as well as reviewer for several journals and funding schemes, and organizer of conferences.
A list of publications can be found here!
A list of professional activities can be found here!
You can reach me per mail or snail mail.
Professional Skills
Languages: German (native tongue), English (business fluent)
Programming Languages: HTML (skilful), C/C++ (good), nesC (good), Java (basics), Matlab (basics), MySQL (basics),
Visual Basic (basics), Pascal (basic again), R (basic again)
Operating Systems: TinyOS (skilful), Windows XP to Windows 8.1 (good), Linux (good), IOS (good)
Working with documents: Microsoft Office (skilful), LATEX (skilful), HTML (skilful), Framemaker (basics)
Memberships and Social Engagement
Memberships:
Alumni:
Technische Universität München (TUM), Germany
M-Chips at DKFZ Heidelberg, Germany
Social engagement:
Since 2016 Swiss-German Club
Since 2009 Lion-Club member: until 2016 member in Campus Lions Club Garching (President 2010/2011, since 2011 web administrator), now member in Lions Club Zürich-City (Revisor 2017/2018)
2009-2013 Medical Courier for Ontime-Courier GmbH, DKMS, and NMDP
2008-2013 Assistant women representative for the faculty computerscience at Technische Universität München, Germany
The World - My home
Status end of 2015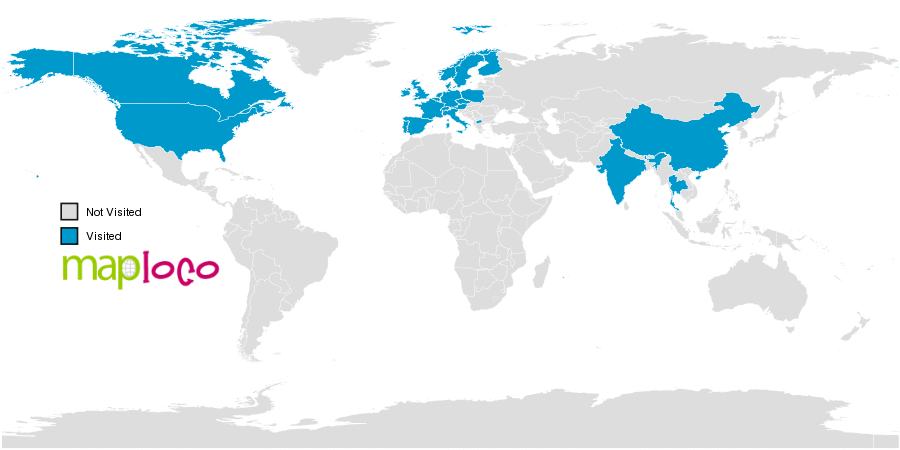 Create Your Own Visited Countries Map